Madonna Claps Back At Criticism Over Her Aretha Franklin VMA Tribute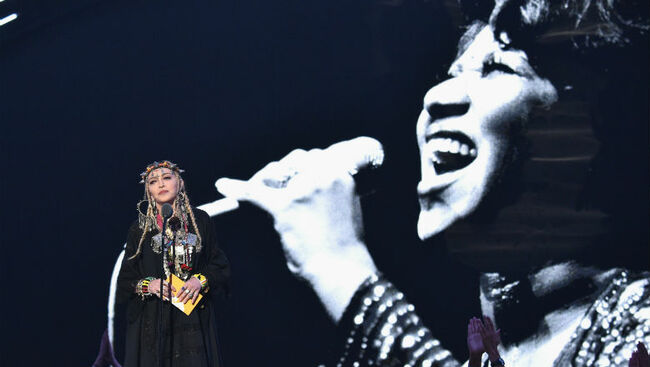 Madonna has some words for the critics who jumped on her for her Aretha Franklin tribute at the 2018 MTV Video Music Awards and the backstory to the much-talked about moment might be worth your while.
Taking to Instagram to share a shot of her and Camilo Cabello, the Queen of Pop admitted in the caption section that she was "so proud of her" for her Video of the Year win, before detailing how her own appearance in the show came about in the first place. "I was asked to present video of the year by MTV! And then they asked me to share any anecdotes I had in my career connected to Aretha Franklin!" she revealed. "I shared a part of my journey and thanked Aretha for inspiring me along the way. I did not intend to do a tribute to her! That would be impossible in 2 minutes with all the noise and tinsel of an award show. I could never do her justice in this context or environment."
And yet, the 60-year-old pop veteran went on to admit she has realized that "most people have short attention spans, and are so quick to judge," adding, "I love Aretha!" Nonetheless, none of the negativity on the Franklin front nor her ensemble are getting her down. "I Love Camilla! Congrats! I LOVE my dress! AND. I love-L O V E!! ♥️ and there is nothing anyone can say or do that will change that," she ended the caption.
If you missed out on the 2018 MTV VMAs, make sure you check out all the highlights from the Radio City Music Hall spectacle, which also included appearances from Nicki Minaj, Cardi B, Shawn Mendes and more!